3D printers play an increasingly important role in the process of new product development and small batch production. Below we will introduce a case of cooperation with an Italian medical equipment company. They use MINGDA MD-6H industrial 3D printer to make medical equipment shell samples, which redefines the production method of mechanical equipment shell design.
TEM Beauty is an Italian company that produces medical beauty equipment, and it is one of the few that follows and implements the entire process from design to production of medical beauty equipment, including hardware, machinery, software, algorithms, production, sales, etc. When prototyping new products, TEM Beauty often needs to utilize the services of a third-party injection molding company. This results in more time and cost for the entire process.
If parts are produced through third-party suppliers, not only are there long wait times from start to finish, but each prototype usually costs a lot of money. In addition, if there is any change in the design of the product, a new set of molds must be used, which incurs an additional cost.
Based on the above factors, TEM Beauty decisively gave up this method. After discovering the production process of 3D printed parts, Vittorio (the main person in charge of TEM Beauty) found MINGDA, who has 12 years of experience in professional 3D printing solutions. He found that using 3D printing technology can save a lot of time, save costs, and speed up the production process of new end products.
According to TEM Beauty's requirements for medical beauty equipment shells, MD-6H was selected for this cooperation to print PLA materials.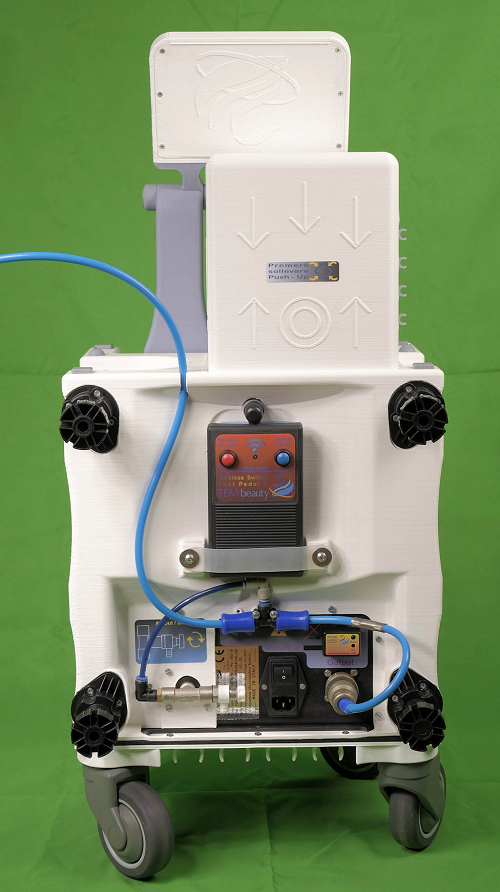 As Vittorio's feedback, the MD-6H machine was chosen because its product size is within 400*300*500mm, and the plastic shell of the PLA printed as the equipment does not need to bear a lot of weight, while the professional design of MINGDA large-scale 3D printer like a fully enclosed metal frame, direct-drive extruder, and linear guide rail structure, perfectly meets its requirements for a smooth surface of the sample.
Due to its business expansion, Vittorio said that other larger-sized machines of MINGDA will be introduced in the near future, which is undoubtedly recognition of Yang Mingda's professional service capabilities.
If you also want to try to improve product design and production efficiency and save mold opening costs through 3D printing technology, you may wish to contact our account manager for details.