According to studies, at least 2%-3% of people have scoliosis (one/both sides). Most people can be diagnosed before age 7 and can be cured with the right treatment. At various stages of treatment, there is something beneficial for all scoliosis sufferers, such as a dorsal brace. It aids in spinal correction procedures and speeds up treatment.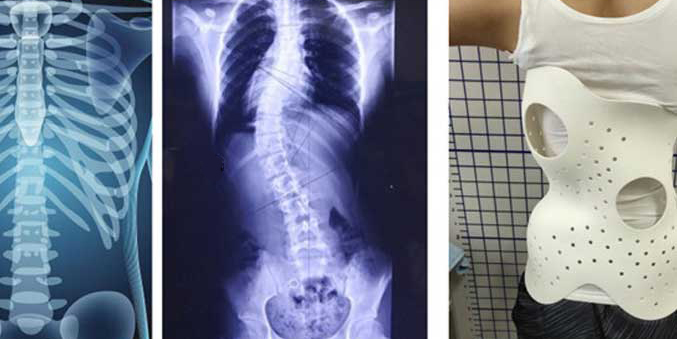 However, the existing braces have problems such as poor air permeability, the design cannot fully fit the patient's body, the wall thickness of the device, and the unsightly style, etc. These problems make the patient's wearing compliance poor, thereby affecting the treatment effect.
Is there a solution for that? Yes, it is here! 3D printing!

Medical institutions and rehabilitation aids manufacturers at home and abroad have begun to manufacture more lightweight and beautiful customized scoliosis orthoses through 3D printing technology.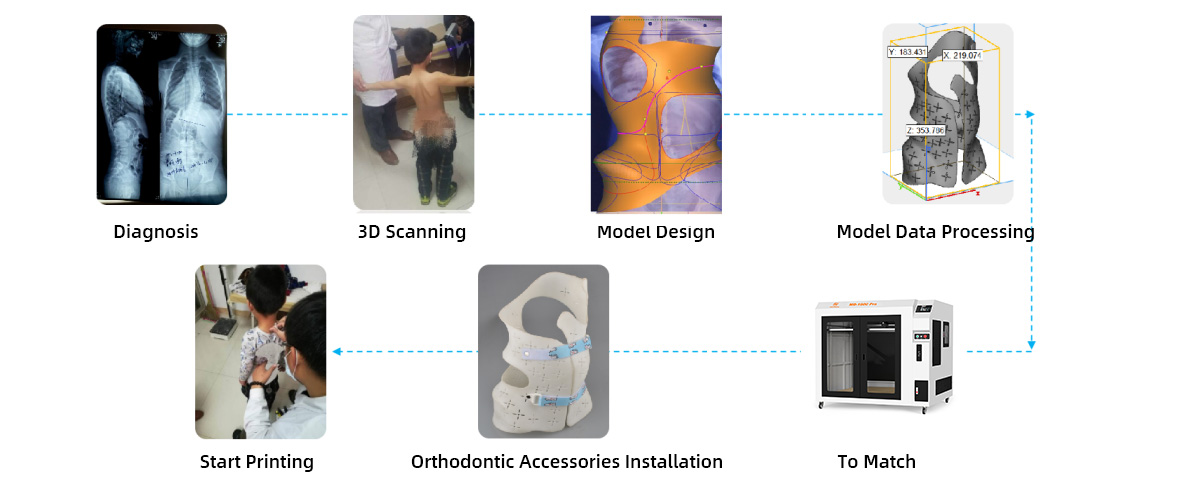 Recently, Dr. Kevin Lau from Singapore designed a spinal brace, which was made by printing TPU78D on the Mingda MD-600 Pro large-size 3D printer. It was perfectly customized according to the user's body structure, and the 3D printed product was perfectly fitted and perfectly supported. The clothes are also light and comfortable on the outside, and 3D printing helps improve the patient's condition in the most comfortable way possible.

Why is 3D printing technology more and more used in the field of rehabilitation aids?
1. Personalization
3D printing can help you achieve personalization. You can customize your favorite styles, patterns, and more without compromising comfort.
2. Perfect fit
Drawing according to the data measured by the customer, 3D printing can accurately print the real object according to the drawing, so as to realize the perfect fit of the body and the brace, and make the customer experience better.
3. Timeliness
The traditional customized production cycle of braces is 2-3 months, while the customized production cycle of braces using 3D printing technology is much shorter, allowing users to start treatment with braces faster.

MD-600 Pro is a large-scale high-performance 3D printer launched by Mingda. Its build size can reach 600*600*600mm, which can meet the needs of integrated molding of large-scale models. In addition, it is equipped with an exclusive patented direct extruder, which supports printing different kinds of filament, such as TPU, PETG, PET-CF, PET-GF, PA12-CF, PA12-GF, etc., can meet the needs of different filed. Whether it is the rehabilitation aids industry, the auto parts industry, or the industrial design industry, it can be used. In addition, the MD-600 Pro 3D printer is easy to operate, even for inexperienced users.
As a large-scale industrial-grade 3D printer R&D manufacturer for over 10 years, Mingda attaches great importance to the research and development of innovative applications of 3D printing technology in various industries and provides customers with comprehensive 3D printing application solutions. In the future, guided by the policy environment and driven by the market, Mingda will be committed to promoting the deep integration of 3D printing technology with more different industries, so as to bring technical support to the development of more industries.