In recent years, the use of 3D printing technology to produce creative lighting fixtures has quietly become popular in the lighting design industry, and has become one of the important technical means for related companies to enhance the added value of products. The application of 3D printing in the production of creative lighting has become more and more mature, and MINGDA has become one of the powerful promoters of technological innovation in this field!
Let's take a look at a case where 3D printing technology is applied to outdoor lighting.
MINGDA MD-1000 Pro 3D Printing Outdoor Lighting
The outdoor light model was printed by MINGDA MD-1000 Pro large-scale 3D printer. The whole model was printed in 6 parts, which took 7 days in total, and the 1:1 real restoration.
It can be seen from the video that the actual size of the outdoor light model is more than 1 meter, so if the size of the model exceeds the maximum building size of the 3D printer, it can be split and printed, because after the 3D printing is completed, the model can be drilled, screwed, glued and other post-processing.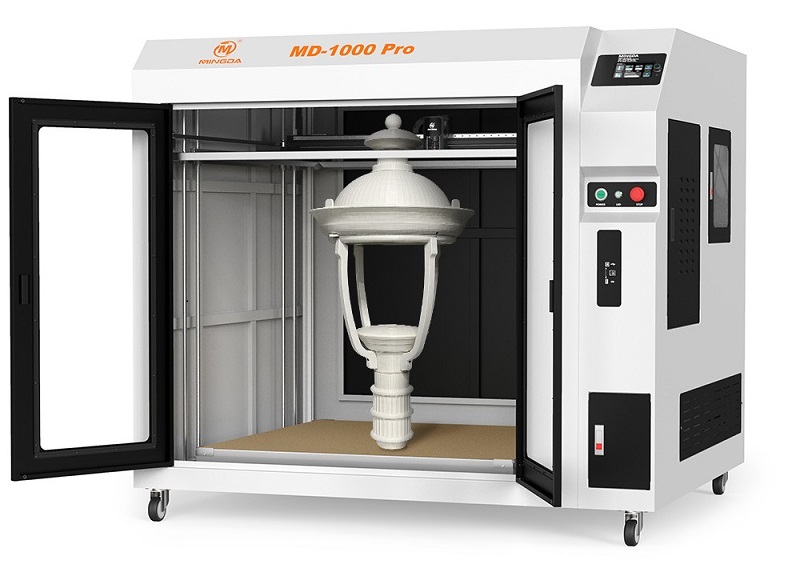 MD-1000 Pro is a hot-selling large-scale and high-speed 3D printer from MINGDA. The maximum building size can reach 1000*1000*1000mm. The performance of the whole machine is stable, and it can achieve 7x24 hours of uninterrupted printing. The design of the newly upgraded CORE-XY plus guide rail structure doubles the speed of the previous 3D printer and greatly shortens the printing time. Help enterprises to realize the inspection and testing of product designs from drawings to solid models in a shorter time, and accelerate the development of new products.
It is worth noting that, in addition to the field of creative lighting and lighting design, MINGDA 3D printers are also widely used in auto parts, architectural design, industrial design, portrait sculpture and many other industries, it has become a favorite weapon for related enterprises to accelerate product upgrades, enhance market competitiveness and increase profit margins.
It is foreseeable that 3D printing technology will greatly change the business model of traditional manufacturing, and will have a profound impact on the future development of many industries. MINGDA hopes to create value for more companies that need 3D printing technology.